Theory and phenomenology of the physics of heavy-ion collisions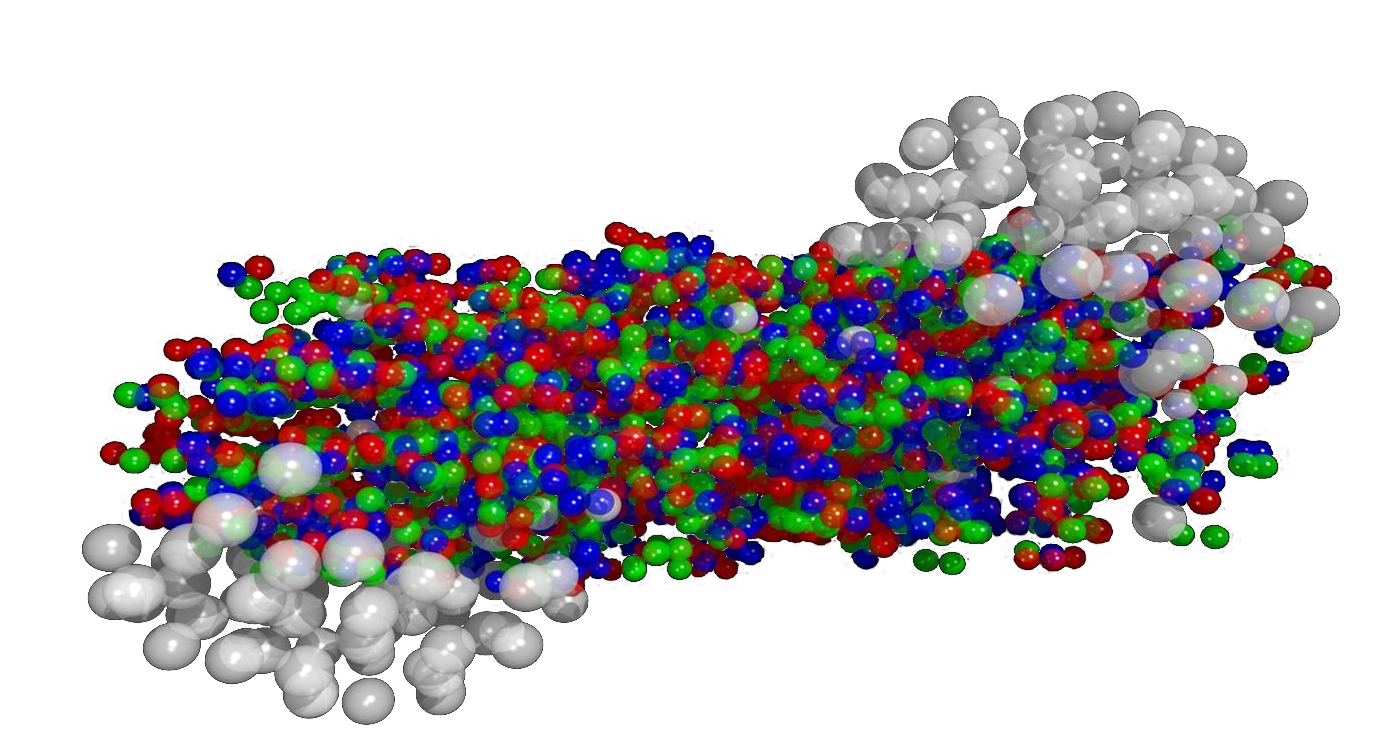 In the theory of hadron-hadron, hadron-nuclear and nucleus-nuclear collisions we compute the probability of new particle production and their properties.
We also investigate the passage of particles through the nuclear medium and its effects.
In nucleus-nuclear collisions we try to create the state of matter during the so-called Big-Bang, where the development of so-called quark-gluon plasma is predicted. In this context we study the reaction of matter immediately after the collision of two nuclei. At this point a number of effects and phenomena develops, which need to be theoretically correctly described.
Group Members
Faculty
prof. Dr. Boris Tomášik, Ph.D.

e-mail:

This email address is being protected from spambots. You need JavaScript enabled to view it.

, room: 220, Břehová 7, Praha, phone: 420224358266

Field of interest: * Fenomenologie ultrarelativistických jaderných srážek
* Femtoskopie
* Produkce hadronů v ultrarelativistických jaderných srážkách
---
doc. RNDr. Ján Nemčík, CSc.

e-mail:

This email address is being protected from spambots. You need JavaScript enabled to view it.

, room: 220, Břehová 7, Praha, phone: 420224358266

Field of interest: * hadronization in nuclear medium
* propagation of partons in nuclear matter
* coherence effects - nuclear shadowing in DIS, Cronin effect in hadron-nucleus interactions, nuclear broadening in inclusive hadron production in DIS off nuclei
* nuclear suppression in heavy-ion collisions at large Feynman x, leading twist gluon shadowing contribution to nuclear suppression
* production of heavy flavored hadrons in pp, pA interactions and heavy-ion collisions, production of heavy quarks and mesons in heavy-ion collisions, electroproduction of vector mesons off nuclear targets
---
Ing. Jan Čepila, Ph.D.

e-mail:

This email address is being protected from spambots. You need JavaScript enabled to view it.

, room: 13, Břehová 7, Praha, phone: 420224358356

Field of interest: * Color Glass Condensate a partonová saturace v protonových a jaderných srážkách
* Koherenční jevy při produkci částic v jaderných srážkách
* Produkce vektorových mezonů
* Měření vlastností scintilačních detektorů
---
Iurii Karpenko, Ph.D.

e-mail:

This email address is being protected from spambots. You need JavaScript enabled to view it.

Field of interest: Phenomenology of relativistic heavy-ion collisions at RHIC and LHC energies: hydrodynamic modelling of the QGP medium and jet modelling.
---
Ing. Michal Křelina, Ph.D.

e-mail:

This email address is being protected from spambots. You need JavaScript enabled to view it.

Field of interest: * High-pT produkce částic v pp, pA a AA srážkách
* Jaderné efekty v pA a AA kolizích
* Průchod partonů jaderným médiem
---
Ing. Jaroslava Óbertová, Ph.D.

e-mail:

This email address is being protected from spambots. You need JavaScript enabled to view it.

Field of interest:
External co-workers
Mgr. Petr Závada, CSc.,DSc.

e-mail:

This email address is being protected from spambots. You need JavaScript enabled to view it.

, room: FZU AVČR

Field of interest: * spinová struktura protonu
* výpočty procesů v rámci kovariantního přístupu
* GPD a TMD partonové distribuční funkce
Students
Ing. Dagmar Bendová

e-mail:

This email address is being protected from spambots. You need JavaScript enabled to view it.

, room: 505, Břehová 7, Praha

Supervisor: Dr. Jan Čepila Topic: Low-x QCD studies
---
Ing. Jakub Cimerman

e-mail:

This email address is being protected from spambots. You need JavaScript enabled to view it.

, room: 506, Břehová 7, Praha

Supervisor: doc. Boris Tomášik Topic: Dynamika vývoje ultrarelativistických jaderných srážek
---
Ing. Radka Sochorová

e-mail:

This email address is being protected from spambots. You need JavaScript enabled to view it.

Supervisor: doc. Boris Tomášik Topic: Produkce částic v ultrarelativistických jaderných srážkách
---
Bc. Matěj Vaculčiak

e-mail:

This email address is being protected from spambots. You need JavaScript enabled to view it.

Supervisor: Topic:
---
Radim Dvořák

e-mail:

This email address is being protected from spambots. You need JavaScript enabled to view it.

Supervisor: Dr. Jan Čepila Topic: Energetická závislost hadronové struktury v rámci kvantové chromodynamiky
---
Tomáš Poledníček

e-mail:

This email address is being protected from spambots. You need JavaScript enabled to view it.

Supervisor: prof. Boris Tomášik Topic: Aplikace relativistické dynamiky tekutin pro popis srážek těžkých iontů
---
Bc. Jakub Štěrba

e-mail:

This email address is being protected from spambots. You need JavaScript enabled to view it.

Supervisor: Topic: